New Mexico Semi Truck Accidents
Semi-trucks are large, heavy and dangerous. On average, a commercial truck weighs around 20 times more than a passenger car. In an accident involving a truck and car, the truck will always win. If you have been involved in a semi-truck accident in New Mexico, help is available. The trucking accident attorneys at The Fine Law Firm can review your case during a free consultation. You may be entitled to financial compensation from the trucking company, the truck driver or another party. Our lawyers will do what it takes to help you recover and move forward.
How Will an Attorney Help Me With My Truck Accident Case?
Hiring a semi-truck accident attorney to represent you can even the playing field when going up against a truck company and its insurance provider. Insurance corporations have years of experience devaluing claims and avoiding large payouts. The best way to protect yourself as a claimant is by having an attorney represent you during insurance settlement negotiations. Your attorney will pursue maximum financial compensation for the full extent of your injuries and property damage as a crash victim.
You can leave the legal side of your case to your lawyer while you concentrate on healing and recovering from significant injuries. Semi-truck accidents often inflict life-changing injuries on victims. You should not have to deal with the legal process while also undergoing medical treatments and trying to rebuild your life. Your lawyer will investigate the crash, gather evidence of fault, identify the defendant(s), answer your legal questions, file your claim before New Mexico's deadline and protect your rights along the way.
New Mexico Semi-Truck and 18-Wheeler Accident Statistics
New Mexico has three interstates within its boundaries. These interstates add up to a significant amount of interstate traffic, and along with it commercial semi-truck rigs. Specifically, Interstate 10 runs for 164 miles within New Mexico while Interstate 40 and Interstate 25 run for 368, and 460 miles respectively. This means that there is a total of 992 miles of interstate traffic within New Mexico.
In addition, there are 412 state roads within New Mexico totaling 7,405 miles. These roads are typically maintained by the New Mexico Department of Transportation. More often than not, when a semi-truck destined for New Mexico leaves, the interstate is on one of these many state roads. As a result, it is difficult for any New Mexican motorist to avoid coming in contact with a semi-truck, no matter where they go.
Of the nearly 43,000 car accidents that occur in New Mexico each year, approximately 1,400 of them, or 3%, involve semi-trucks. However, what New Mexico truck accidents lack in terms of frequency, they more than make up for in severity. Generally, non-semi-truck accidents involve a fatality in 1 out of every 130 accidents in New Mexico. With respect to semi-truck and 18-wheeler accidents, a staggering 1 out of 35 results in a fatality. A semi-truck accident is four times more likely to result in death than a non-semi-truck accident. In addition, 1 out of every 15 New Mexico semi-truck accidents result in incapacitating injuries.
Common Injuries Suffered in Semi-Truck Accidents
Semi-truck accidents are often catastrophic for those involved. The injuries suffered by victims can be severe and life-changing, including permanent disabilities and impairments. They can cost a victim hundreds of thousands of dollars in medical care alone. At The Fine Law Firm, we know how to get real results for severely injured clients. We will put you first in the fight for maximum financial compensation, using aggressive negotiation strategies against insurance companies and going to court on your behalf if a lawsuit is necessary.
The injuries that are often connected to commercial truck accidents include:
Soft-tissue injuries
Whiplash and neck injuries
Broken bones
Internal injuries
Traumatic brain injuries
Deep lacerations
Scarring or disfigurement
Severe burns
Spinal cord injuries and paralysis
Amputations
Crush injuries
Psychological trauma
Sadly, not all truck accident victims survive their injuries. In the case of a fatal semi-truck accident in New Mexico, surviving family members may be entitled to financial compensation through a wrongful death claim. This type of case seeks damages for funeral and burial expenses, lost wages and inheritance, and mental anguish to reimburse grieving loved ones and the deceased victim's estate. Our attorneys are able to represent clients in catastrophic injury cases and wrongful death lawsuits after semi-truck accidents.
Most Common Causes of Truck Accidents in New Mexico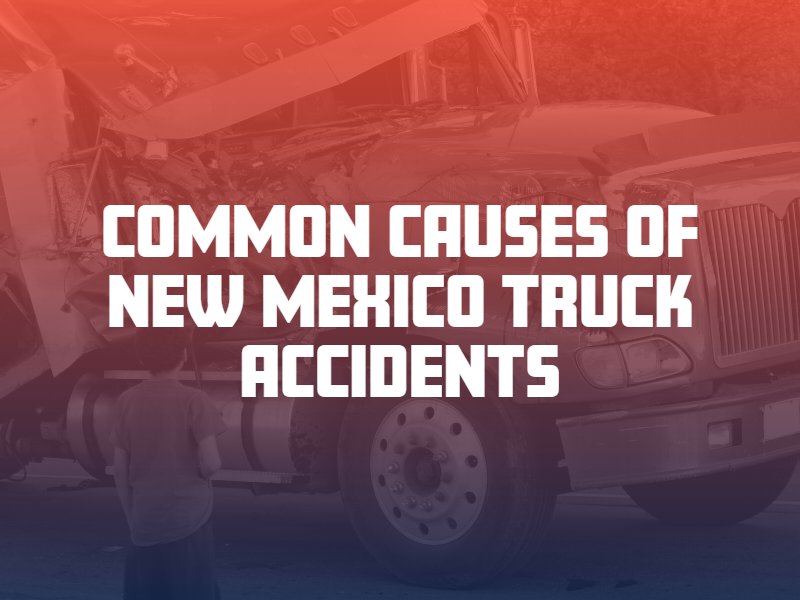 Truck driver error is the number one cause of semi-truck accidents in New Mexico. To operate an 18-wheeler or any commercial motor vehicle in New Mexico, a driver must obtain a special commercial driver's license. The driver must also receive training to properly drive and control the large truck. Unfortunately, not all trucking companies hire qualified drivers or properly train them.
In some cases, the driver is qualified and properly trained but makes a dangerous mistake behind the wheel, such as driving while distracted. Of all New Mexico truck crashes, approximately 22% are caused by driver inattention, according to the investigating police officer. The next most significant cause is driving too fast for conditions.
Other common truck driver errors include:
Texting while driving
Speeding
Drunk or drugged driving
Driving while fatigued
Broken hours-of-service regulations
Other federal law violations
Tailgating
Aggressive driving
Failing to yield the right-of-way
Failing to check blind spots
Making unsafe lane changes
Running red lights and stop signs
Sometimes, an investigation of a semi-truck accident finds that the truck driver is not to blame. Instead, an issue with the truck or the road might have caused the crash. If a big rig is not properly inspected, maintained or repaired by the trucking company, it could have dangerous part breakdowns in transit, such as a tire blowout or brake failure, that results in an accident. The roads in New Mexico must also be properly maintained. Road defects such as large potholes could cause a trucking accident.
How to Prove Liability in a Truck Accident Claim
Liability, or legal and financial responsibility, for a truck accident in New Mexico will go to the person or party most at fault for causing the crash under the state's fault-based car insurance law. Determining the liable party takes a thorough investigation into the cause of the accident and the application of New Mexico's relevant laws. If the truck driver is found to be at fault, for instance, the law of vicarious liability may permit the victim to sue the trucking company instead of the individual driver.
The liable party in a truck accident claim could be the truck driver, trucking company, cargo company, a third-party driver, the truck manufacturer, the government or another party. As the plaintiff, or filing party, in a truck accident injury claim, you have the burden of proving that the defendant is liable. This requires clear and convincing evidence that the defendant is more likely to be at fault for the truck accident than not at fault.
Examples of evidence used to prove truck accident cases are:
The police report
The truck's black box
Data recorders and electronic logging devices
The truck company's employment records
The company's federal compliance history
The truck's maintenance and repair records
The truck driver's inspection logs
The truck driver's medical and driving histories
Cell phone records
Photographs and video footage
Eyewitness statements
You may need an attorney to help you preserve and collect evidence to support your semi-truck accident case. An attorney will send investigators to the scene of the crash to search for available evidence. Then, the law firm can make phone calls, file letters of preservation and issue subpoenas to preserve further evidence. It may be necessary to hire crash reconstruction experts to determine why the accident occurred. A lawyer can help you go up against any defendant, including powerful adversaries such as trucking companies and insurance corporations.
How Long Do You Have to File a Truck Accident Claim in New Mexico?
If you or a loved one gets injured in a commercial truck accident in New Mexico, a law known as the statute of limitations places a strict time limit on your right to file. This deadline changes from state to state. In New Mexico, you have no more than three years from the date that the crash took place to file a related personal injury claim. If you wish to file a lawsuit for the death of a loved one in a truck accident, you have three years from the date of death.
It is important to obey your time limit and take legal action as soon as possible after a semi-truck accident. Otherwise, you could be at risk of filing past your deadline and having your case dismissed. Waiting too long also comes with the risk of losing valuable evidence, such as accurate witness statements (while the crash is still fresh in their minds) or surveillance footage before the tapes get erased. Contact an attorney as soon as possible after your crash to start your claim.
Where Are New Mexico Semi-Truck Accident Cases Tried?
Because the majority of semi-trucks in New Mexico involve companies outside of the state, it is not uncommon for New Mexico truck accidents to work their way into the federal system. However, there can also be a significant basis to bring such cases within New Mexico's state courts and oftentimes in favorable jurisdictions.
Determining the exact state or federal court which may preside over a semi-truck case is oftentimes a matter of venue. Unlike "jurisdiction", which is a principle regarding whether or not a court has the authority to preside over a case, "venue" is a matter of picking the specific New Mexico District Court which can preside over a case. Typical factors that may affect which New Mexico venue is appropriate include 1) where the truck accident occurred; 2) where the injured plaintiff is from; and 3) where the semi-truck company is from or where it does business.
Filing a lawsuit is one of the first, yet most important steps in any truck accident case. It is necessary for it to be done in a manner and location which is not only appropriate but also beneficial for the injured party.
What Damages Can Be Recovered in a New Mexico Semi-Truck Accident Case?
New Mexico's damage elements are generally rather broad. A plaintiff can claim damages relating to his or her past medical bills, future medical bills, past pain and suffering, future pain and suffering, past lost earnings, future lost earnings, disability, impairment, loss of enjoyment of life, and at times emotional distress.
In addition, the family members of a truck accident victim may be able to recover what is called "loss of consortium" which addresses the way in which they are affected by the significant injury or death of their loved one. Finally, New Mexico law may also allow for punitive damages to be recovered when the conduct that leads to a semi-truck accident is especially egregious.
What to Do After a Truck Accident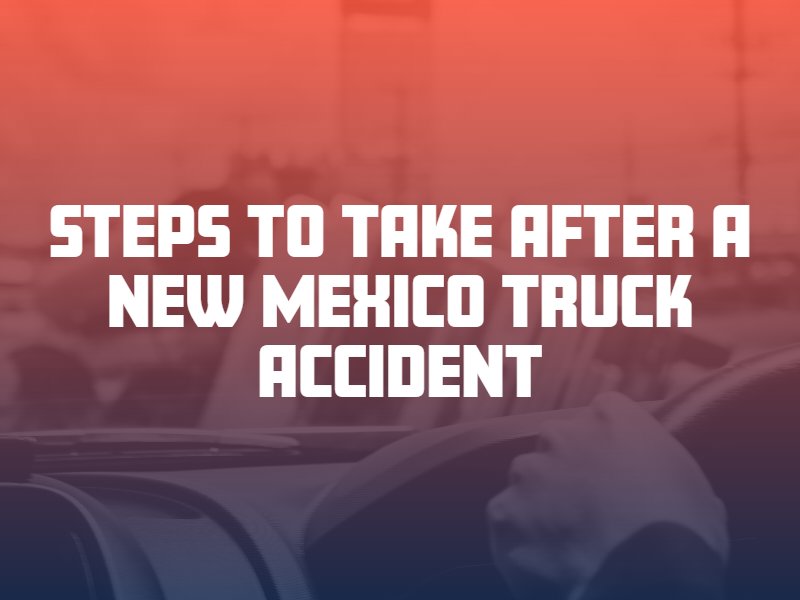 Being involved in a truck accident can be frightening and chaotic. If all that you can do in the aftermath of a truck accident is get medical care and focus on your recovery, that's fine. Your lawyer can take care of the rest of the legal process on your behalf while you concentrate on healing.
However, if it is possible to take other steps, the following actions can help you protect your rights:
Call the police immediately. You should always report a truck accident, as it will most likely cause injuries or enough property damage to make police reporting mandatory in New Mexico.
Exchange information with the truck driver. Write down the driver's name, the trucking company, the truck number, the VIN and insurance company information.
Take pictures and videos. Use your cell phone to capture footage and images of the scene of the truck accident before you leave.
Get eyewitness information. Write down the names and phone numbers of any passengers or eyewitnesses (people who saw the crash take place).
Access the truck's black box. Contact an attorney to help you access electronic data, including the black box, before the trucking company has the chance to alter or erase it.
A trucking company will immediately go to work on investigating a crash and attempting to deny liability for your injuries. The best way to protect yourself is by consulting with a semi-truck accident attorney in New Mexico as soon as possible after the crash. Your lawyer can help you with all of the necessary steps to recover from an accident and initiate a claim.
Contact a New Mexico Semi-Truck Accident Attorney Today
To learn more about your legal options after a collision with a semi-truck or 18-wheeler, contact our New Mexico truck accident attorneys. The Fine Law Firm offers free consultations. Call (505) 889-3463 today to schedule your consultation.