Hiring a Truck Accident Lawyer
If you get injured in a truck accident, it is important to hire the right lawyer to represent you. The skill and experience of your attorney will directly correlate with the success of your case. Hiring a truck accident lawyer is more complex than most people realize. Take the following steps to ensure you make the right decision.
Common Sense Considerations When Hiring a Truck Accident Lawyer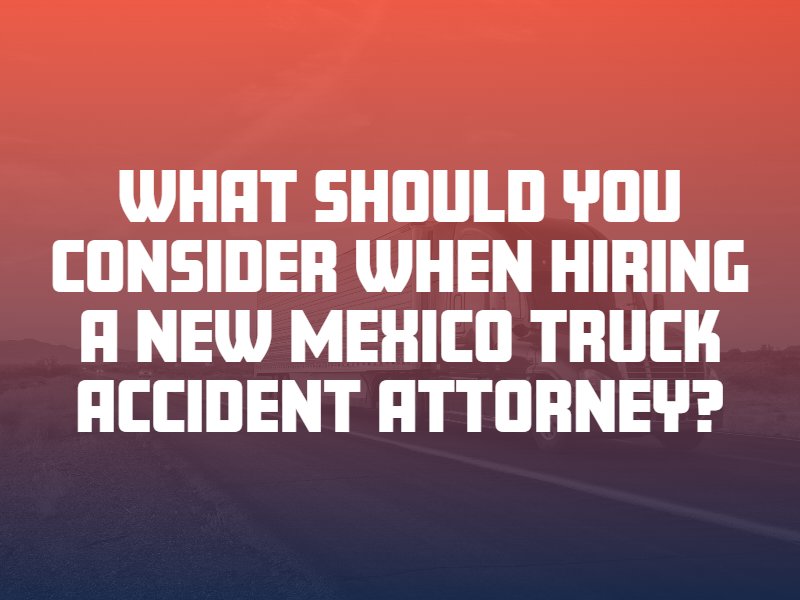 In some respects, hiring a truck accident lawyer is a matter of common sense, and in other ways it is a difficult process that requires focusing on the right qualifications and asking the correct questions. Just like all people are different, so too are all truck accident lawyers. While one type of truck accident attorney may be an ideal candidate to represent a certain injury victim, that same attorney may simply not be able to relate to other clients.
In this way, hiring a truck accident attorney is common sense. It is important for anyone who is preparing to hire a lawyer to speak with various attorneys and develop a feel for what the client-lawyer relationship will be like. Although it may be impossible to know and predict exactly what the relationship will be like once representation begins, considering factors such as how quickly calls are returned, how clearly the lawyer can explain important issues relating to a case and simply how comfortable a lawyer makes the client feel are all important considerations.
While it is a fair question to ask a lawyer to predict or assess the likelihood of success, it is also important to be wary of how the attorney responds. There is virtually no case in which a lawyer can guarantee success or predict with exact certainty how a case will resolve. In all likelihood, a truck accident lawyer who informs a prospective client that they will be able to accomplish amazing feats and represents them on the case, is simply trying to tell the prospective client what they want to hear, rather than an honest assessment of the law and facts.
Specific Qualifications and Experience
Once you get a feel for what the attorney is like and how he or she treats clients, focus on the specifics. You need to be able to rely on your attorney and know that he or she has the skill, experience and credentials to properly handle your case. This takes looking into the attorney's history, practice areas, case results and asking questions about experience.
While every truck accident case is unique, experience handling truck accidents in general is critical. This is the only way you will know for sure that your lawyer understands how these cases work, knows the surrounding laws and has what it takes to get real results. Look for a lawyer that has years of experience handling semi-truck accident cases in New Mexico.
During your initial consultation, ask how many truck accident cases the lawyer has handled. Inquire about case results, as well, to make sure the law firm is capable of achieving positive settlements and jury verdicts. Although past results do not guarantee that your case will succeed, they can give you more confidence in the capabilities of the attorney.
Three Truck Accident Attorney Types
When it comes to truck accident law firms, there are three main types. Knowing about each type will help you decide how to hire your attorney.
The Non-Truck Accident Attorney: These are those who know little about truck accident law and can potentially do more harm than good. These are the law firms that handle all types of cases from criminal to divorce and makes the mistake of assuming that a truck accident case is just like any old car accident, just bigger. Although perhaps perfectly well-intentioned, these attorneys may unknowingly harm the cases they are pursuing.
The Aggressor: These are knowledgeable truck accident attorneys and are known as aggressive sharks ready to attack the insurance company. These are the lawyers who will tell you how tough they are. They will show you boxing gloves and ferocious animals with long teeth and sharp claws. They will suggest to you that in the courtroom they resemble rabid beasts, growling at the insurance company and ready to rip the head off of the negligent driver. Although perhaps well-intentioned, these attorneys believe it is better to turn everything into a fight and focus more on bothering the other side instead of serving the client's best interests.
The Advocate: These are the lawyer with the necessary specialized knowledge who are respected as fair and honest in the legal community while also tireless and enduring advocates for their clients. These are the law firms who get called by other lawyers when they need help. These are law firms that realize although there may be times that require passionate and vigorous attack against the other side, also understand that more often than not they can help their clients more with working relationships based on trust and integrity with other attorneys and insurance companies.
This is where the truck accident lawyers at the Fine Law Firm fit in. We cannot guarantee to our clients that we will win their case, and we will not put on a show of fake bravado and spectacular promises, but we can guarantee our clients that their case will be handled by a competent and skilled team of attorneys. Our client's truck accident cases may require significant amount of time and patience, but they will always be pursued with the objective of doing what is best for the client.
Truck accident cases are intricate and technical paths that require specific knowledge, significant resources, and seasoned analysis. We believe that our client's interests are best served when they are informed and aware of the legal process, we make sure that no significant decisions are made without first dedicating however long it may be necessary to fully educate and advise the client so that the progress of a case is based on a team approach rather than an unreachable lawyer.
A final consideration when hiring a truck accident lawyer is to make sure that the attorney has the resources necessary to protect necessary evidence while pursuing cutting-edge representation. The reality is that economics play a role in truck accident cases and often times there will be instances in which significant and sometimes exorbitant financial resources. When a truck accident lawyers at the fine firm begin handling a case, they do so with the understanding that they may be spending tens of thousands of dollars in resources and will not waiver or turn away at what is best for the case even if it may be costly.
Other Considerations
Other considerations to include when hiring a truck accident lawyer are determining exactly who the contact will be as the case continues and what type of strategy that lawyers will implement in handling the case. Some law firms pass cases off to paralegals after the initial consultation. Ask if this will happen to your case or if the attorney you are speaking with is who will be handling the lawsuit. Don't be afraid to ask about the intended strategy for your case, including how many experts may be necessary.
Look for Honesty and Integrity
Finally, it is important to assess the honesty of the lawyer. All too often, we receive calls from clients who tell us that they have already spoken to a lawyer who says they have a great case, but the lawyer just doesn't have the time. Although this may be true a fraction of the time, it is more often than not a result of the lawyer trying to avoid handling the case without providing honest feedback.
All too often, especially when trying to get hired, lawyers are very eager to tell a prospective client what they want to hear rather than an honest opinion. A good way to assess the honesty of a possible truck accident lawyer is to ask a simple question: "What are the biggest weaknesses of my case?" If the lawyer can provide a specific reply without dodging the question, it is a good sign that the attorney is being honest and sincere rather than simply trying to tell a prospective client what they think will get in the case.
Steps to Take to Hire the Right Truck Accident Lawyer
Now that you know what to look for when hiring the ideal truck accident attorney, start with a simple Google search for "New Mexico truck accident attorneys near me." You could also ask friends and family members for referrals. While law firm advertisements may be useful, keep in mind that not everything you read and hear is true. You should still do your due diligence before hiring the attorney.
Find two or three options that are in your city and that state they take truck accident cases. Browse the website for additional information, such as past case results or client testimonials. Then, call the number listed to schedule a case consultation. Most law firms offer initial case reviews for free and at no obligation to hire them.
Use the free consultations to get to know each option better. That way, you can determine which one is the best fit for your case, circumstances, needs and goals. Do this by asking questions about the attorney's experience with truck accident cases, legal strategies, fees and other pertinent details. The consultation should give you an idea of what the attorney is like as a person and how he or she treats clients.
Questions to Bring to Your Truck Accident Case Review
To make sure you are selecting the right attorney, bring a list of questions with you to ask during your initial consultation. Questions you may wish to ask include:
How many years of experience do you have handling truck accident cases?
How many trucking companies in New Mexico have you gone up against?
Can I see past case results and client reviews?
What legal strategy would you use on my case?
Do you charge any fees upfront?
Do I have to pay if I don't win my case?
What are your communication policies?
How often will I receive case updates?
Do you currently have the capacity to take my case?
Overall, you should feel good about the lawyer you choose to handle your truck accident case. You have been through a lot as a crash victim and deserve nothing but the best legal representation.
Ready to Get Started? Contact Us to Schedule a Free Consultation in New Mexico
If you're ready to speak to a truck accident attorney about potential representation for your injury case, schedule a free consultation with an attorney at The Fine Law Firm. Our lawyers have years of experience helping truck accident victims pursue justice and recover maximum financial compensation for their losses. Call (505) 889-3463 today to request your case review.