New Mexico Amazon Truck Accident Attorney
Amazon is the largest online retailer in the world, with a transportation fleet comprised of around 30,000 delivery vehicles and 20,000 tractor-trailers. Unfortunately, not all Amazon trucks and drivers are roadworthy or safe. This results in a number of serious Amazon truck accidents each year.
If you or a loved one has been injured in an accident involving an Amazon delivery vehicle, contact the New Mexico Amazon truck accident attorneys at The Fine Law Firm to request a free case consultation. We can help you protect your legal rights against this major corporation in pursuit of fair financial compensation.
How Can The Fine Law Firm Help You?
Amazon is a powerful adversary. Worth approximately $1.44 trillion, Amazon has the resources and legal team to fight liability for accidents involving its delivery trucks and drivers. Hiring The Fine Law Firm can help you level the playing field. Your attorney will have the ability to stand up to Amazon and its insurance corporation to protect your legal rights during the claims process.
You can trust your lawyer to investigate your accident, collect evidence, hire experts, negotiate with an insurance adjuster and preserve your best interests. Our lawyers will prevent Amazon from taking advantage of you during a difficult time in your life while you focus on healing and recovering from your injuries.
Who Is Liable for an Amazon Truck Accident?
Unlike a typical car accident case, a collision with an Amazon truck involves more than just two drivers. It involves Amazon as an employer, as well. The rule of vicarious liability holds employers legally responsible (liable) for the actions of their employees. This means it is often possible to hold Amazon liable for truck accidents caused by delivery driver mistakes or negligence (the failure to use proper care).
If the employee or contractor was acting within the scope of his or her employment at the time of the crash, your claim may be against Amazon rather than the individual truck driver. You may also have grounds to hold Amazon liable for a truck accident if an investigation discovers that the crash was caused by the company's negligence, such as hiring incompetent drivers or failing to ensure the truck was properly serviced.
Common Causes of Amazon Truck Accidents
A skilled New Mexico Amazon truck accident attorney can conduct a comprehensive investigation to determine the cause of your crash. A law firm will have the resources to identify the at-fault party or parties using evidence such as the truck's black box data, any available video surveillance footage, the truck driver's cell phone records, Amazon's employment and fleet records, a police report, and eyewitness statements.
Common causes of Amazon truck accidents include:
Truck driver negligence
Distracted Amazon driver
Texting while driving
Speeding
Driving under the influence of drugs or alcohol
Driving while drowsy or fatigued
Following too closely
Reckless or aggressive driving
Rolling through red lights or stop signs
Violating traffic laws
Poor truck driver hiring or training practices
Lack of Amazon fleet maintenance
Truck equipment or part breakdowns
Human error is the number one cause of all motor vehicle accidents. However, if a third party caused or contributed to the crash, an attorney can help you hold this party liable. A third party is someone who was not at the scene of the crash but played a role, such as the manufacturer of a defective truck part or a government agency that failed to maintain a safe road.
What Compensation Can You Recover?
A successful personal injury claim after an Amazon truck accident in New Mexico could result in a settlement or judgment award for your economic and noneconomic losses. These are collectively known as compensatory damages, and they are designed to make an accident victim whole again.
The types of compensation that may be available include:
Current and future estimated medical bills
Short-term or long-term disability costs
Property repairs or totaled vehicle replacement
Lost wages and future capacity to earn
Physical pain and emotional suffering
Wrongful death damages (after a fatal accident)
Punitive damages, in rare cases
An attorney at The Fine Law Firm can help you understand the potential value of your motor vehicle accident case. It is important to consult with an attorney before rushing into a fast insurance settlement, as a lawyer will prevent you from saying yes to an inadequate amount. Insurance companies are not always fair with their initial settlement offers.
How Long Do You Have to File an Amazon Truck Accident Claim?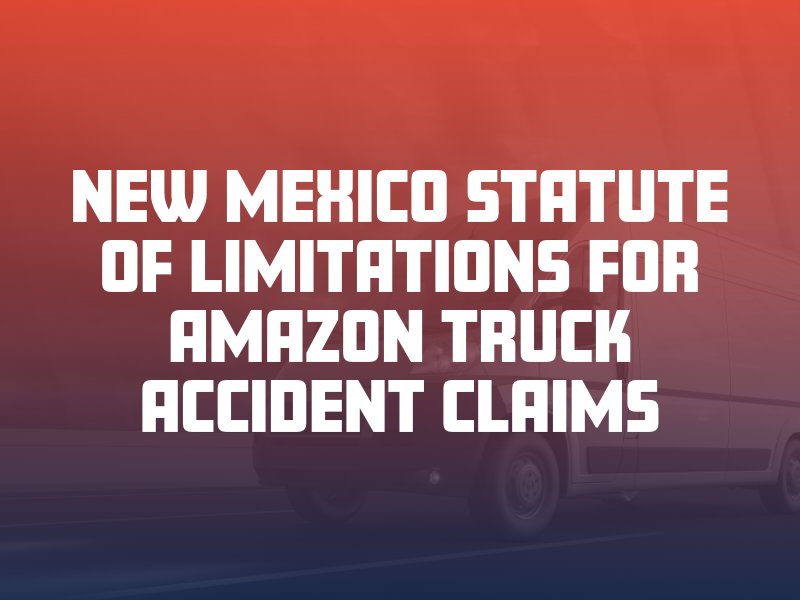 In New Mexico, a law called the statute of limitations places a deadline on your right to pursue financial compensation for a truck accident. If you wait too long and miss your statute of limitations, you will most likely forfeit the right to file a claim. The statute of limitations is three years from the date that the truck accident took place or the date that you discovered your injuries. Do not delay in taking legal action if you or a loved one has been injured in an accident involving an Amazon truck or delivery vehicle.
What to Do After an Accident With an Amazon Truck
It is important to realize that what you do and don't do after a truck accident can affect your insurance claim and ability to recover financial compensation. If you get involved in an Amazon truck accident in New Mexico, take the following steps to protect your rights:
Pull over at the scene of the accident and call 911 to report the crash.
Check yourself and others involved in the accident for injuries.
Get immediate medical care for any injuries.
Do not admit fault for the accident.
Exchange information with the Amazon truck driver.
Gather witness information and testimonies.
Document the scene before you leave by taking photos.
Obtain copies of your police report and medical records.
Report the accident to your own car insurance provider.
Contact an attorney before beginning the insurance settlement process.
A New Mexico Amazon accident injury attorney can take over a complex insurance claim and go up against Amazon or its representatives on your behalf. Your lawyer will know how to handle complicated truck accident cases.
Call Our New Mexico Amazon Truck Accident Attorneys Today
If you were recently injured in an Amazon truck accident anywhere in New Mexico, contact The Fine Law Firm for personalized legal services. We can go up against major corporations such as Amazon to pursue maximum financial compensation for you while you rest and heal. We understand what you are going through and are here to help. Call our truck accident lawyers at (505) 889-3463 or contact us online today to schedule a free case consultation.