New Mexico Rollovers & Blowouts Attorney
Commercial truck accidents cause thousands of serious injuries and deaths each year. Large trucks are dangerous for many reasons – one of which is the possibility of tire blowouts and truck rollover accidents. At The Fine Law Firm, our New Mexico truck accident lawyers can help you pursue justice and financial compensation from the at-fault party or parties to help you rebuild your life after a devastating crash. Contact us today for a free case consultation.
How Can a New Mexico Truck Rollover & Blowout Attorney Help Me?
Injuries or deaths caused by truck tire blowouts and rollover accidents can lead to personal injury claims against one or more parties. These cases often require assistance from an experienced truck accident lawyer in New Mexico. A lawyer can handle the legal aspects of an accident case for the victim, including a full investigation as to why the truck accident occurred.
A lawyer can identify the at-fault party or parties, collect evidence of fault, file a legal claim before the deadline, and help the victim seek maximum financial compensation. If you or a loved one has been injured in a truck accident involving a tire blowout or rollover, hiring a lawyer can make it easier to pursue justice and fair compensation while you focus on healing.
Common Causes of Rollovers & Blowouts
A truck rollover accident occurs when a tractor-trailer or 18-wheeler gets turned on its side or overturns (flips) completely. This can occur if the truck jackknifes, meaning the trailer swings out at an angle from the cab, causing the truck driver to lose control and often roll the truck. It can also occur due to issues with the tires, such as blowouts. This is when a tire explodes suddenly rather than losing air slowly.
Truck rollovers and tire blowouts can occur for many reasons, including:
Poor truck maintenance: commercial trucks require frequent maintenance to operate safely and properly. If a trucking company or the owner of a big rig neglects truck maintenance, its tires could fall into a state of disrepair (such as bald or worn-out tires). This could lead to tire blowouts and related rollover accidents, as well as a claim against the trucking company or owner.
Tire defects: a tire with a design, manufacturing or marketing defect may not perform as it should on a commercial truck. A defective tire may wear out at a faster rate than other tires, for example, leading to a dangerous blowout. The manufacturer of the tire could be held responsible for this type of accident with a product liability claim.
Truck driver negligence: careless and reckless truck drivers may operate their trucks incorrectly and increase the odds of a tire blowout or rollover accident. This includes taking corners too quickly, not accounting for shifting cargo and using the incorrect braking methods. They may also be responsible for failing to inspect their trucks' tires before driving.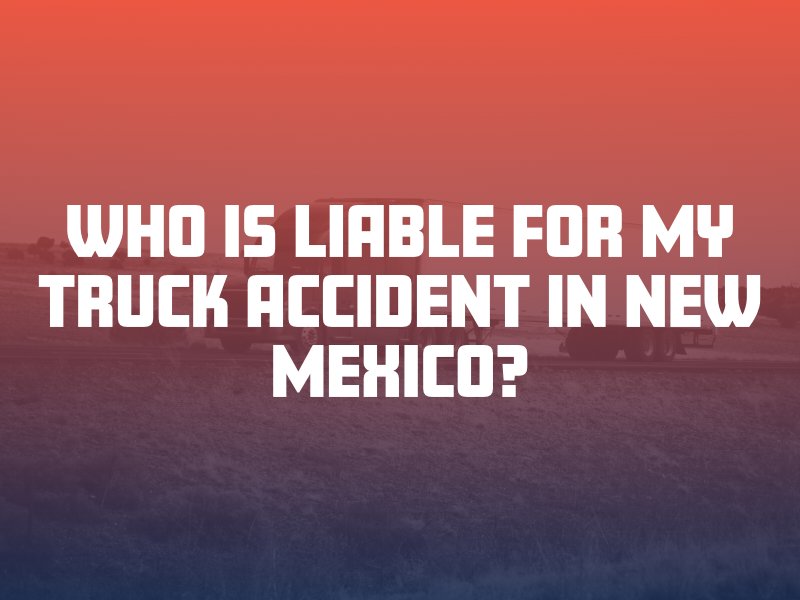 In New Mexico, the fault-based car accident law means that the person or party most at fault for causing a truck accident will be financially responsible. This could be the truck driver, trucking company, cargo company, maintenance crew, product manufacturer or a third party. Determining the cause of your rollover or tire blowout accident is something that a truck accident lawyer at The Fine Law Firm can assist you with.
Call Our New Mexico Truck Accident Lawyers Today
A large truck rollover or blowout accident can cause life-changing injuries. As a victim, you have rights. The attorneys at The Fine Law Firm can help you protect them with personalized legal services. Contact us today for a free consultation about your truck accident case. We care about our clients and will guide you through each phase of the recovery process. Call (505) 889-3463 to learn more.